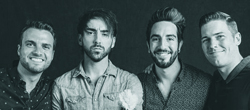 All Time Low is an American pop-punk band formed in the suburbs of Baltimore, Maryland in 2003. The band consists of Alex Gaskarth (singer), Zack Merrick (bass player), Rian Dawson (drummer) and Jack Barakat (guitarist). The band has already released six albums and is touring the world to promote their latest record Future Hearts.

The band's seventh album Last Young Renegade will come out on 2nd June 2017 through the label Fueled By Ramen. You can already pre-order it here.

From June to August 2017, All Time Low will be back in the United States for the Young Renegades Tour with SWMRS, Night Riots, Waterparks and The Wrecks. Check out the dates here.

Webmiss: Moe
Opened: 7 November 2010
Layout: #20 by Moe
Contact: contact@oh-calamity.net
Hits:


Oh Calamity is a non-profit website made for the promotion of the band All Time Low throughout the world. We are in no way affiliated with the band, their families or their management. All the pictures and articles belong to their rightful owner. Should you want your pictures removed, please send us an email at contact@oh-calamity.net and we will delete them.
The layouts of the website and the gallery are made by Oh Calamity.