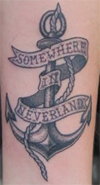 Many fans have already gotten
All Time Low tattoos
, whether they are song lyrics or drawings. Three of them have agreed to talk about theirs. If you wish to show your tattoo on the website, please send us an email at
contact@oh-calamity.net
Pauline
has a tattoo of
an anchor
on which the words
Somewhere In Neverland
are written. This is obviously a tribute to the second single of the band's fifth album
Don't Panic
. The anchor also represents her love for
rock
and it reminds her of two bands that mean a lot to her: All Time Low and
Sleeping With Sirens
. According to her, this anchor is a reminder that she never has to sink. The song became very important to her when the band opened their show in Paris on the
18th of February 2013
in Paris with it. She is also very fond of the Peter Pan theme as she doesn't want to grow up.

She recently got a new tattoo: the band's
logo
and a lyric,
Let the walls break down
. The latter was inspired by the song
Walls
off the album
Nothing Personal
. This new tattoo symbolises her love for the band and it also shows everything the band has enabled her to do: meet amazing people and be herself.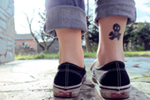 The third tattoo is
Maëva
's and it's above her right ankle. Her tattoo was also inspired by All Time Low's
logo
. The drawing, which is
a skull
, first appeared on the cover art for the band's third album
Nothing Personal
and is now used on each album they release. All the members of All Time Low along with some crew members also have this tattoo on their bodies.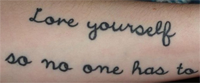 This other tattoo belongs to
Magali
. She decided to take her inspiration from an older album,
Nothing Personal
. The lyrics she gots tattooed come from the song
Therapy
that helped many people go through hard times. This is why this song also helped Magali when there were problems in her family. The lyrics are tattooed on her left arm.
Back