Tours: Pictures and video (February)

The band is currently in Australia and since Alex had a day off in Melbourne, he decided to go on stage with the band
McBusted
to perform the song
Get Over It
, which he co-wrote. Watch the performance below. Alex shows up at
2:17
.
Many pictures
taken at
concerts
of the band in Australia or the United Kingdom were posted in the gallery. I have also added the
promoshoot
for the album
Future Hearts
, a picture from an
interview
in Australia, as well as a few pictures which were recently posted on
Twitter
.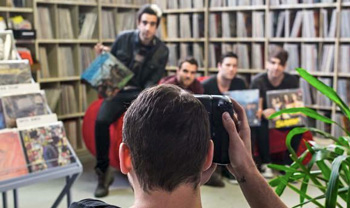 Posted by
Moe
on 25 Feb 2015
Reading And Leeds Festival

The band has announced that they will play
Reading And Leeds Festival
at the end of the summer in the United Kingdom along with bands such as
Panic! At The Disco
and
Bastille
. Check out the two dates below.
28 August 2015: Reading Festival - Reading, United Kingdom
29 August 2015: Leeds Festival - Leeds, United Kingdom
Posted by
Moe
on 24 Feb 2015
Soundwave Festival: Adelaide

Yesterday, the band performed in
Adelaide
at
Soundwave Festival
. As usual, they have posted
an update video
from their set. You can watch it below.
Many
new pictures
which were taken at the
festival
in Melbourne and Adelaide were posted in the gallery. I have also added a few pictures that Alex and Jack have posted on their
Twitter
accounts.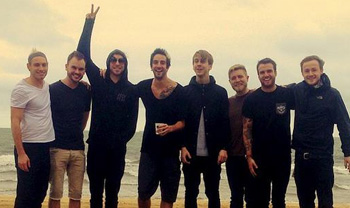 Posted by
Moe
on 23 Feb 2015
Soundwave Festival in Melbourne
Two new videos
of the band in Australia were posted. The first one is
an interview
with Alex in which he is talking about the band's projects for 2015 and the new album. The second one is a recap video showing the band in
Melbourne
. Watch them below.
Posted by
Moe
on 21 Feb 2015
Soundwave Festival: Interview and photos

All Time Low has arrived in Australia, and they played their first set at
Soundwave Festival
in the afternoon. Zack and Jack were
interviewed
and they talked about Future Hearts, their arena tour, and they hinted that they would be back in Australia in 2015. Watch
the video
below.
The
first pictures
from the festival were posted on the web. Check out the first pictures from
their set
in
Melbourne
in the gallery.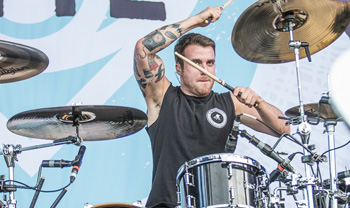 Posted by
Moe
on 21 Feb 2015
New French show in Montpellier

Alternativ News
has just announced that the band's show at Le Bataclan in Paris is sold out. However, the band will be back in France. They will perform
a concert
in
Montpellier
in June. Check out the date below.
14 June 2015: Rockstore - Montpellier, France
Posted by
Moe
on 20 Feb 2015
Throwback Thursday: Hackensack 2007

For this week's
Throwback Thursday
, I have added many pictures that were taken at an
acoustic show
performed by Zack and Alex back in
2007
in Hackensack.
This week, the video featured on the website is the acoustic version of
Remembering Sunday
featuring Juliet Simms.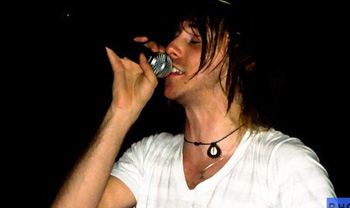 Posted by
Moe
on 19 Feb 2015
Congratulations Alex and Lisa!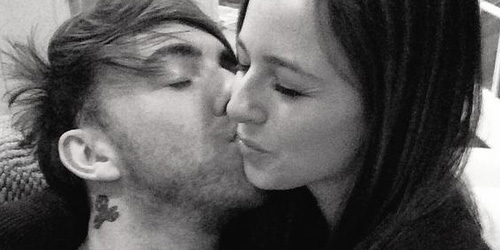 Oh Calamity is extremely proud to announce that Alex
is engaged
to his girlfriend Lisa, whom he has been dating for over 11 years! We wish them all the happiness in the world.
Posted by
Moe
on 18 Feb 2015
AXS: Interview with Jack
What can fans expect from the new album and how does it compare to some of the band's previous material?
Future Hearts is a more commercially acceptable version of our last album, Don't Panic. That album was the one that really brought us back to our roots and was an album for the old school fans and showed everyone that we haven't forgotten about where we came from. Future Hearts has a lot of similar songs as well as a few with pop/rock attitude that will appeal to a wider audience.

Where did the album title, Future Hearts come from?
It actually comes from one of the songs. Alex writes a bunch of the lyrics and afterwards we always look for something that sort of fits the mood of the album. This album is a throwback to what we were feeling when were seventeen just going out on our own in the world and being away from our parents. That's part of where the album name comes from.

What was the writing process like for this album?
A lot of it started with me or Alex throwing around a theme for a song and then thinking about the things we were going through at the time. A majority of the lyrics are written by Alex and a lot of them come from personal experiences. I think that when you're telling a story in a song it makes it easier to write. It's an interesting method.

What can you tell me about the first single, "Something's Gotta Give"?
That song was written by Alex with a friend from Baltimore. It was one of the first songs written for the album and was actually written early last year. We were in the studio for a few weeks and then had to leave to go back out on tour. When we got back and revisited the song, we knew we had to put it on the album. Then once we recorded it, John Feldmann gave it a whole new life!

The song has a clever, undead themed video. Where did that idea come from?
The director wrote the plot and the theme based off of the lyrics "dying to live." He wanted to do a spoof off of that with zombies and we thought it was great. A lot of people may not realize that the story in the video is actually told twice.

Can you give me an update on the band's tour schedule?
We've recently completed a co-headlining tour in the U.K. It was our first arena headlining tour with some of the biggest shows we've ever done. It was a mind opening experience. We've been at home for eight months now and are pretty prepared for the whole whirlwind of what's about to happen. We've got a long year ahead of us.

Do you ever get caught up in the whirlwind of touring from city to city or are you able to take a step back and enjoy the moment?
We do a really good job of taking a step back and relaxing. We're all very close with our crew and during days off we all have a good time enjoying the city that we're in. It really helps bring you back to home and makes you level headed when you take a second to enjoy what you're actually doing.

The band is set to appear in the upcoming film, "Fan Girl." How did you become involved that project?
A few years ago we got an email from a screenwriter whose daughter is a huge fan of the band. She wrote the story about a girl obsessed with the band and the relationship she has with her mother. At first, we weren't sure if it would ever come to fruition. But then we started getting emails that Kiernan Shipka and Meg Ryan were going to be attached to it. It came as a complete surprise! We did some live performances in the film and Alex does a few scenes with Kiernan. We're so honored to be a part of it.
Posted by
Moe
on 18 Feb 2015
<< Previous ... 2 ... 4 ... 6 ... 8 ... 10 ... 12 ... 14 ... 16 ... 18 ... 20 ... 22 ... 24 ... 26 ... 28 ... 30 ... 32 ... 34 ... 36 ... 38 ... 40 ... 42 ... 44 ... 46 ... 48 ... 50 ... 52 ... 54 ... 56 ... 58 ... 60 ... 62 ... 64 65 66 67 68 69 70 71 72 73 74 75 76 77 78 79 80 81 82 Next >>