Yesterday, All Time Low played a free show at the
All-Star Concerts
in San Diego, CA. Alex and Jack got to talk about their favourite baseball team, the Baltimore Orioles, in
the video
below (click the picture to watch).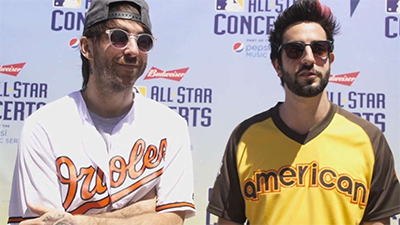 Formed in 2003, All Time Low hails from Towson, MD, a suburb of Baltimore. Unsurprisingly, the band members are die-hard Orioles fans, an allegiance they haven't waivered from no matter where their travels take them.

Although they were very young during the Orioles glory years of the mid-1990s, the band members can reflect upon the era of Cal Ripken Jr., Brady Anderson, Roberto Alomar and B.J. Surhoff and realize how lucky they were to be coming of age as baseball fans at the same time that the Orioles were such a powerhouse.

"They were just killing it at the time," lead singer Alex Gaskarth said. "It was a good time to be an O's fan." Such is still the case today, Gaskarth was quick to point out.

"This is our year," he said. "We've got it. Most home runs in the league -- I think we've got this one. It's a productive team."

All Time Low performed 12 songs, including "Kids In The Dark," "Backseat Serenade," "Weightless" and "Dear Maria, Count Me In." Engaging with an obvious liking to playing to the crowd, the band fit in well with the festive, loose scene at the Embarcadero.

"There's no better thing than playing an awesome show outside when it's this beautiful," Gaskarth said. "It's a free show, there's a lot of people here hanging out, excited about baseball, excited about music."